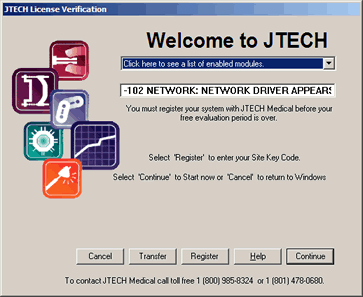 Your Tracker™ software uses an encryption system for registration. This error may appear at program launch if the encryption drivers have not been installed or are not running properly.
To resolve this issue, follow these steps:
Using "My Computer" or "Windows Explorer" open the C:\TRACKME directory, or the directory where the Tracker™ software is installed.
Double-click on the SETUPEX.EXE file.
If prompted to reboot the computer, do so.
Run the Tracker™ software. It may be necessary to obtain new license keys from JTECH Medical's Technical Support.